Privacy policies are not something to take likely. You may have even heard of a company who is being sued for not being in compliance.
Scary stuff.
If you collect any sort of personal information on your site, whether it be through a contact form or in the sale of a product, website owners must declare how they intend to use that information, how they store it, and how users can request their information to be removed.
Google requires your website to have a Privacy Policy
If that isn't enough to convince you…
If you use Google Analytics to measure traffic to your website, Google requires you to have a Privacy Policy. You can find this requirement within section 7 of Google's Terms of Service: https://marketingplatform.google.com/about/analytics/terms/us/ .
What About WordPress?
If you want to comply with GDPR and your country's privacy laws you'll need a privacy policy, cookie policy and a terms of service policy. You'll notice that WordPress 'strongly advises' website owners to create a privacy policy, in fact there is an entire section dedicated to this in your dashboard. Just go to the left hand side menu, hover over 'settings' and select 'privacy' to see the below information.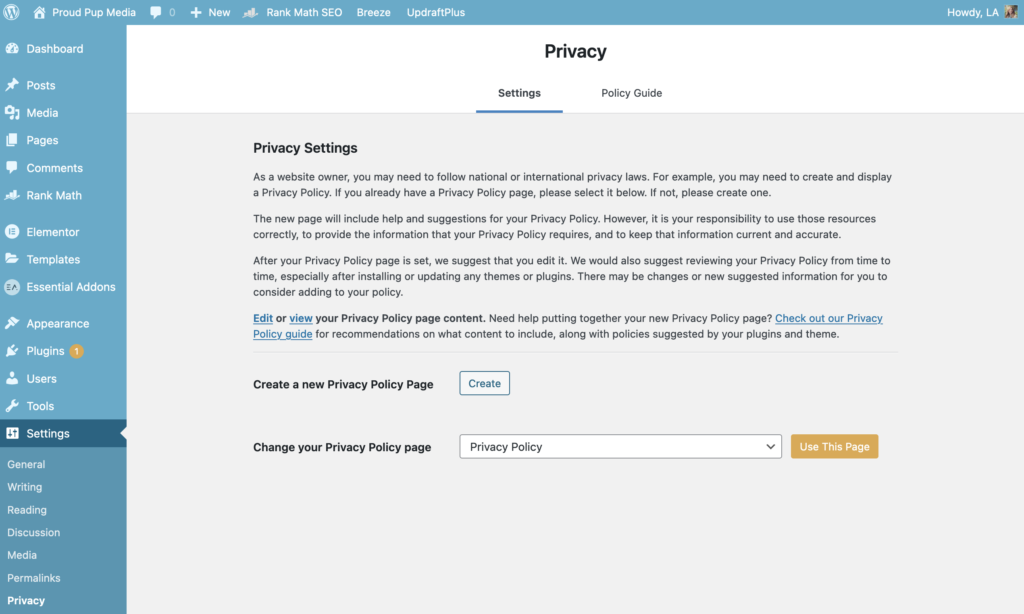 Is this a good start? (UPDATED)
The information in WordPress is somewhat helpful, but it is not compatible with any single privacy law, so no, it's not a good start at all. If you read it closely you'll see that it's only a guideline but I'm sure there are more than a few people who cut and paste, not thinking about their own requirements in the country they live or the countries their website servers. You're pretty much left on your own to figure out what you need to include in your website policies. It really is up to you to find and apply the requirements. It can be a lot of work, and expensive.
Not to worry, friend, we have a solution for you. Please read on.
How often should website policies be updated?
It is suggested that you review your website policies at least once a year and make sure that it reflects your current data processing activities. It is important that you let your customers know this by announcing it on your website via a pop up with a link to the updated policies or by sending out an email.
Here's some valuable information about the changes coming to Canada's privacy laws.
If you live in the US you'll need to read this resource to find out what changes may be coming up.
And if you live in California specifically, (some of our clients do so we're including this) you'll need to know the information contained here.
And don't forget, if you serve customers in the US, you may need to include this information in your privacy policies. If your website is hosted outside of your country, that's a whole other level of compliance and in fact, some sectors in Canada, like government and Education require data stay inside the country and or province in which you live. Alberta, (where we are located) is specifically noted in the article linked in the last sentence as it has some of the most comprehensive legislation in Canada.
What are we doing to help?
Firstly, if you host your site with us, we ensure that your site's hosting location is in your own country.
And up to the time of writing, Proud Pup Media has been diligently including auto generated, custom privacy policies, cookie policies and terms of service policies in all our site builds. We use up to date information in all our policies but once they are set, it is up to the site owner to keep track of updating their policies unless we have a specific agreement.
It's a lot of work to stay on top of all of this. That is why we are now partnering with Termageddon.
Termageddon is a technology company founded by privacy and contract lawyers and their website policies generator has been recognized as a trusted tech vendor by the largest international privacy organization in the world (iapp.org). Their website policies generator will update your website policies when privacy laws change or new laws go into effect, helping you stay compliant and avoid privacy related fines and lawsuits, and it's so much cheaper than hiring a lawyer to write your policies.
Protect Your Business with Us
It's easy to protect your business when you choose one of our monthly care plans because they are now included! Have a look at the guide below to learn more.
I hope you have found this information useful. Should you have any questions please don't hesitate to reach out. You can also check our plans to see how we incorporate Termageddon into our services.
Please note again that we are not lawyers so please don't consider this to be legal advice. Consult your attorney to ensure you comply with all applicable laws.