If you're looking to save time and effort on creating content for your website, you might have heard about AI writing generators. They've become pretty popular in recent years and can definitely help you out. But before you get on the bandwagon, it's important to think about the pros and cons of using this technology.
The Pros of Using an AI Writing Generator:
Time-saving: The biggest perk of using an AI writing generator is that it can save you a ton of time! With AI, you can have content ready in just a few minutes, leaving you more time to work on other things for your website.
Match your tone and style: AI algorithms can be set up to make sure the content it produces has a consistent tone, style, and formatting. That way, all the content for your website will look and sound the same, match your brand and be of high quality.
Create more content faster: AI can create a lot of content quickly and easily, which is great if you need to make a lot of content regularly.
Accuracy: AI can help you spell check and correct grammar easily! You can also ask AI writers to adjust the reading level of your content, grade 7 is a good target, to ensure your articles can be read and understood by everyone.
The Cons of Using an AI Writing Generator:
Lack of creativity: While AI can make content fast, it might not be as creative or original as content written by a person. This could result in content that's boring and doesn't stand out.
Accuracy: Sometimes, AI might not get it right and produce content that's inaccurate or misleading. This could harm your website's reputation and make it less trustworthy.
Lack of personal touch: AI-generated content might not have that personal touch that content written by a person has. This could make it harder for you to connect with your audience and get them engaged.
Plagiarism: One of the issues with using AI for content generation is that the generated content may be similar to or an exact copy of existing content. This can result in copyright infringement and damage to your reputation. To avoid this, it is important to always run a plagiarism check on the content generated by AI before publishing it on your website.
If you're thinking about using an AI writing generator, here are some tips to help you get started.
Tips for Using An AI Writing Generator
Know your target audience: Make sure you know who you're writing for so the AI can create content that appeals to them.
Give examples: Provide examples of the type of content you want the AI to make so it understands your brand's tone and voice.
Review and edit: Always read over the content made by the AI and make changes if necessary. You want to make sure the content represents your brand and meets your standards.
Check the results: Keep an eye on how the content is doing and make changes if needed. This will help you get the best results from using AI for content creation.
Free AI Writers VS. Paid AI Writers
There are a lot of AI writing generators out there, both paid and free. While the free ones might not be as powerful as the paid ones, they're still a good starting point if you're new to using AI for websites. Some popular free AI writing generators include ChatGPT and Grammarly.
This is a screenshot of ChatGPT with the AIPRM Chrome extension enabled. AIPRM is used for SEO and marketing which may also be helpful for you when writing content for the web.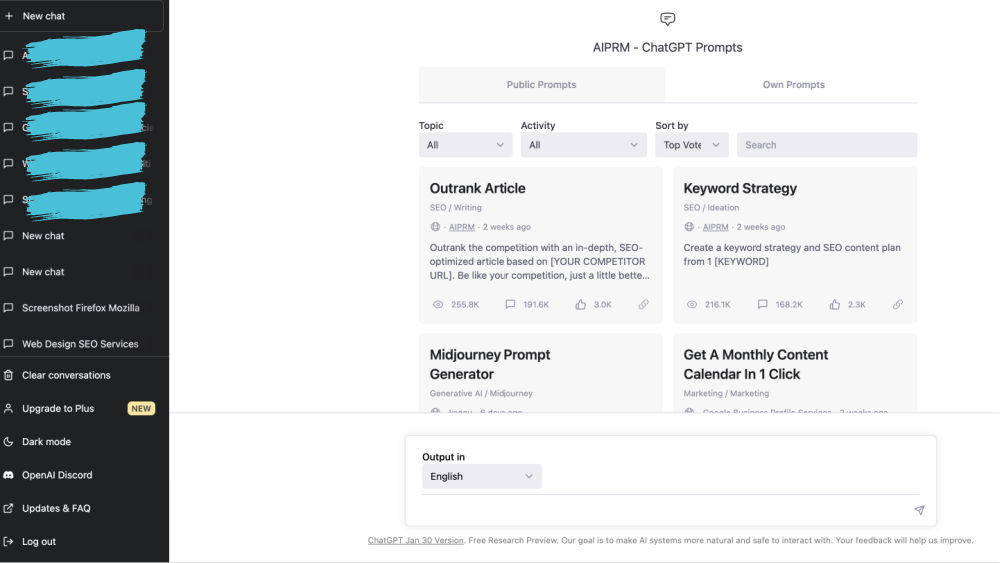 AI writers can also be used to generate emails!
Imagine having an AI technology that can write emails for you in just a matter of seconds. This can save you a lot of time and effort in writing emails yourself, especially if you have a lot of emails to send. The AI technology can be programmed to write emails in a specific tone and style, making sure that the emails you send out are consistent in terms of quality.
HyperWrite is a Chrome extension that assists you in writing emails and more. But, just like with AI-generated content for websites, it's important to review and make sure the emails generated by AI accurately represent you and your brand.
In conclusion, using an AI writing generator can definitely be a helpful solution for website owners who need to make a lot of content regularly. But it's important to think about the good and the bad before you start using one.
Whether you choose a paid or free option, make sure to keep an eye on the results and make changes if necessary to ensure your website is providing the best possible content for your audience.