UPDATED: December 6th 2022
This time of year is likely the most lucrative season for your business or brand. It can be easy to sit back and watch the dollars roll in but are you making the most of the opportunities for marketing your business? Hopefully you have a strong website presence that Google favours, pushing your website to the top of the search for your most important key words.
If you don't there may still be time. You can boost sales and social media exposure with a few simple marketing hacks that won't take too much time and pay off for the long term.
BUT and this is a big one…follow the 80/20 Rule.
Post non-promotional stuff 80% of the time and the other 20% promotional stuff. Why? Because people don't want to be sold to. If you create a story around your brand, add personality and have fun, you'll be more likely to gain trust and ultimately more sales. It's not being tricky or underhanded, it's just good business. Brand loyalty is about trust and trust is about relationships.
So with that in mind, have a look through our 5 best marketing hacks to rock your holiday season and choose one or all of them and get started today!
5 Simple Marketing Hacks for Christmas You Need Right Now
1. Have Fun
One of the easiest marketing hacks used to increase social media exposure is to inspire laughter and have fun with it! It will seem less like work and people not only really appreciate the humour but they will remember you.
Utilize Christmas and seasonal hashtags like #elfontheshelf #TrickstytheElf, holiday memes to expand your reach and draw in more people who might not otherwise know about your brand. Just keep it simple and memorable.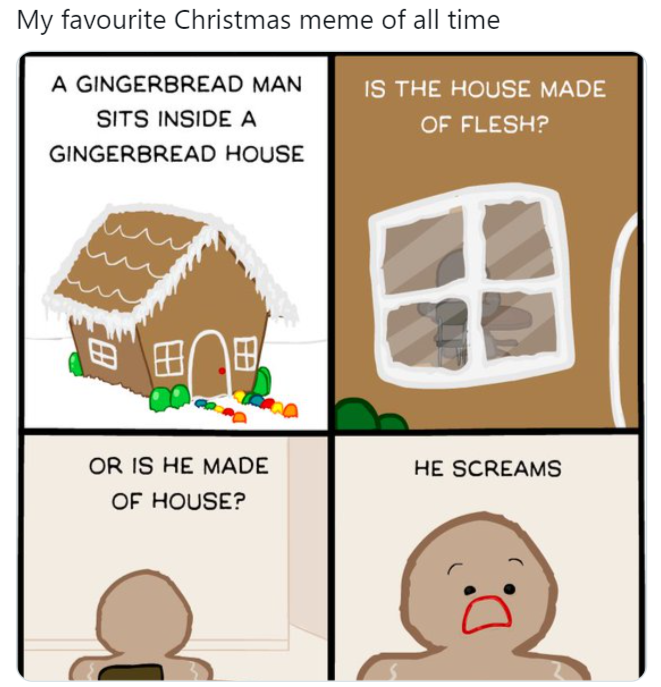 I laughed so hard at this one I spit out my coffee!
2. Christmas-ify your Brand
Take a look at your website and all of your social media profiles and decorate them with seasonal graphics. Your web and/or graphic designer can do this pretty quickly. You can also learn how by clicking on the post above.
3. Bring Personality to your Brand
Some of the most tried and true ways big brands engage customers is to focus on invoking emotion and experiences worth re-sharing rather than your product. In fact, the brand is the personality of your business, (no, it's not your logo, although if you've cornered the market like Nike has then an argument could be made for that).
An effective strategy is important as well. If you share more 'personality' stuff and less 'product' stuff you will get more engagement. People don't want to be sold to all the time. If they did, pet and animal memes and ASMR videos wouldn't be so popular.
If you think about creating experiences and showcasing the human side of your business people will remember you. It's not a quick fix, rather a long term strategy and what better time to start than Christmas?
4. Contests
Done well, contests can be a great way to build engagement and sales during the busy Christmas and holiday season. Check out what's trending on the popular platforms like TikTok and Instagram and create a competition to win prizes.
You don't have to shell out big bucks or even your own product for that matter. It could be a seasonal coffee gift card, a Christmas mug or work with a partner. All it takes is a bit of creativity and planning ahead so you have enough time to create anticipation.
Everyone likes to win free stuff, amitrite? The prize doesn't have to be expensive but if it's useful or fun, peeps will eat it up!
5. The 12 Days of Christmas
A twelve day countdown to Christmas (or another number if you're a bit late to the party) for a giveaway works well to grab attention and increase engagement. It also gives you a singular focus for twelve days straight when you post interesting or fun visual content. Schedule posts ahead of time across all your social media channels for continuity and branding people will remember. Then you can enjoy engaging with people that comment and share your content.
This is a popular way to build anticipation and keep your audience coming back during the busiest retail time of the year.
Well, there you have it.
These simple Christmas and holiday social media marketing hacks can really impress and help you stand out among the noise. You still have time to get it going before the holiday rush!