Oh yes, we're talking about the art of repurposing! It's like giving your content a makeover and making it sparkle like never before. Plus, it saves you time and effort – a win-win situation!
When you dip your toes into the art of content repurposing, you're taking that piece you've already crafted and giving it a magical makeover, transforming it into a whole new format. Picture this: you could turn that blog post that got a lot of comments into a captivating video, or perhaps weave an engaging series of social media posts from an email you wrote.
But here's the real gem – when you repurpose your content across different mediums, you open the doors to a whole new audience. Each content type has its own type of enthusiasts – some love reading blog posts, others podcasts, while some prefer the visual feast of videos.
And guess what? By showcasing your content in various forms, you're increasing your chances of success. You're whisking your marvelous creation in front of fresh pairs of eyes, expanding your reach, and unlocking more opportunities to woo potential customers.
The beauty of repurposing lies in its simplicity. Your content is already there so no need to rack your brain for new ideas or start from scratch. With repurposing, it's like a quick wardrobe change – a tweak here, a tweak there – and voilà! Your content is all set to conquer a new medium and engage a brand-new audience.
"It saves you time. It's a win-win situation! Woof!"
– Paige, Cutest Canine Office
Ready to rock and repurpose?
Let's dive in and expand upon what you've just read about how you can delight your audience with some cunning content reincarnation. (I love alliteration, don't you?)
Turn Your Blog Post into an Ebook: Ladies and gents, blog posts are the hidden gems of repurposing. They're filled to the brim with awesomeness, waiting to break free from the constraints of a mere web page. Why not gather a bunch of related posts and whip up a dazzling ebook? Your readers will love the convenience of downloading it from your website and diving into a treasure trove of knowledge. Plus, it's an excellent opportunity to showcase your expertise in a more comprehensive format. Talk about adding some literary flair to your content game!
Use Your Content for Quotes on Social Media: Picture this: your blog post has some brilliantly witty sentences, just begging to be shared with the world. Don't let them languish in the shadows! Unleash those quotable gems on social media. Social will be delighted with your snappy one-liners, and Instagram will be dazzled by your artistic quote graphics. Your audience will be hooked on every word you say – and they'll love you for bringing them daily doses of wisdom wrapped in humor. Smiles guaranteed!
Turn Your Content into a Video: Ah, videos – the superstar of the content world! But creating videos from scratch can be a daunting task. Fear not, content wizards! You already have a treasure trove of written content, and that's half the battle won. Repurpose your old content into engaging videos to cater to the visual learners out there. Who knows, you might even catch the attention of a brand-new audience. Lights, camera, repurpose! Here's my YouTube channel.
Create an Infographic from Your Content: Numbers and how-tos, lend me your ears! If you've got content rich with juicy statistics or step-by-step guides, it's time to whip up some captivating infographics. People love information that's visually appetizing, and infographics are just the ticket. Enlist the help of a talented designer (or wield your design skills like a pro) and present your content in a way that captivates and educates. Time to make knowledge go viral!
Send Out a Recap Newsletter: Ah, the good old newsletter – a timeless favorite. Why not make it even more fabulous by recapping your top-performing content from the recent past? It's like creating a "greatest hits" album that appeals to both your die-hard fans and newcomers. By sending a newsletter to your subscribers, you'll extend the reach of your fantastic content and keep your audience craving for more. Encore, encore!
Do you have a post on your website that you think is worth repurposing? Reach out to me and I'll see if I can help out.
Check out the infographic roundup and share on social!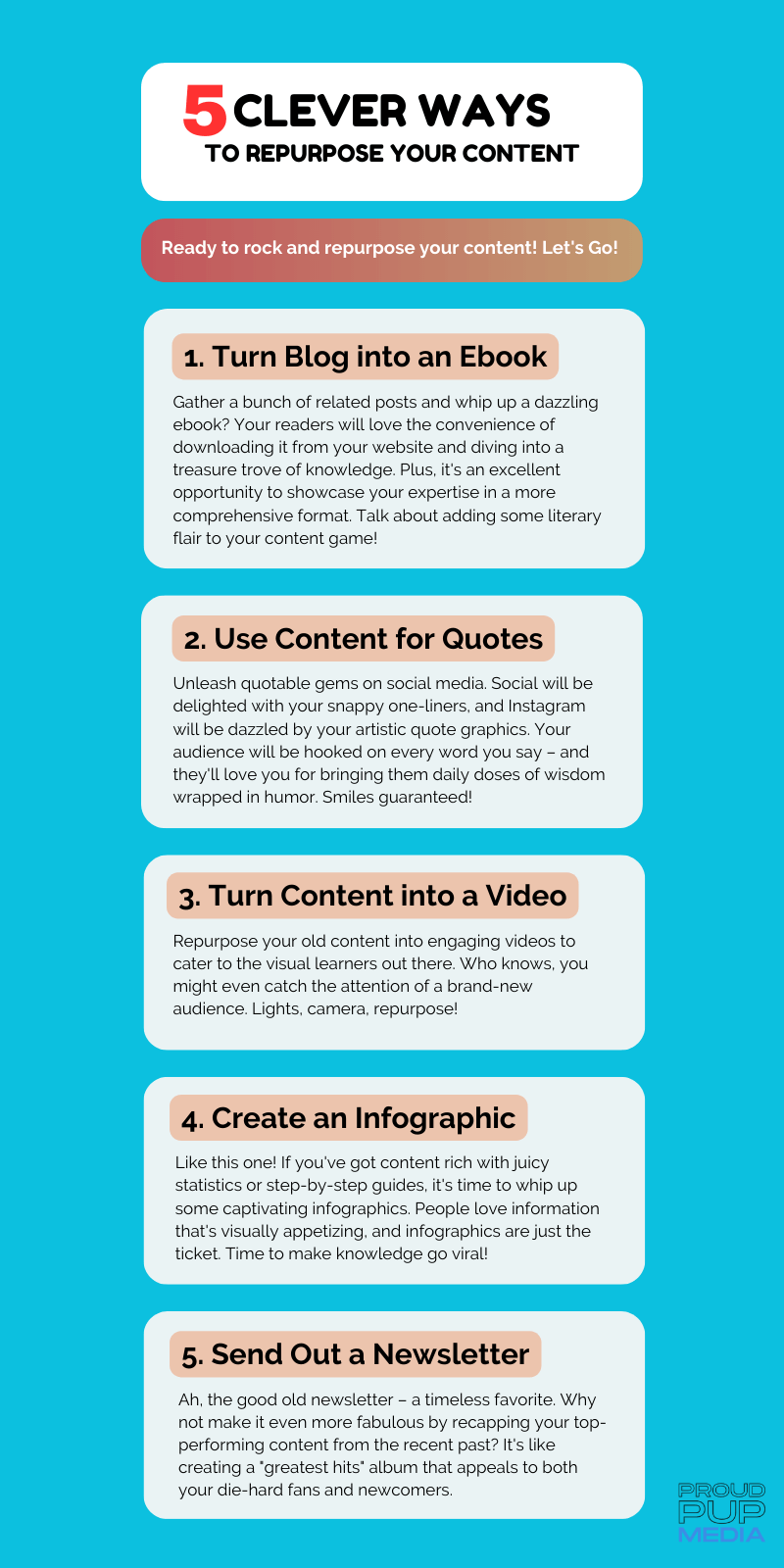 There you have it, savvy content repurposers!
With these five cunning tricks up your sleeve, you'll never have to worry about that dreaded content creation void again. Repurpose, recycle, and reignite your content's charisma – all while saving time and delighting your audience. So, go forth, create magic, and conquer the content cosmos! Happy repurposing!